<< Back to Listings
Beaman Realty ~
Gary Stubenfoll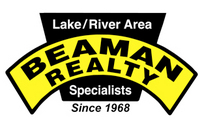 Since 1968, Beaman Realty has been a leader in the local real estate business. Our Friendly and professional agents are always up to date in the latest in the real estate market in the Ozarks of Arkansas.
A lot has changed since 1968, but Beaman Realty continues to lead in customer satisfaction. With over 45 years of success helping buyers and sellers find their perfect home or business in the Ozarks of Arkansas, the Beaman Realty team offers the best in terms of customer satisfaction and real estate expertise.
Beaman Realty's agents can help guide you through the sometimes confusing process of buying or selling real estate with confidence. Beaman Realty provides a wide range of real estate services and utilizes the most current technology and systems to assist you with all of your real estate needs. Whether you are new to the market or an experienced investor, we have the expertise, proven track record and resources to help you achieve your real estate goals.
5897 Highway 178 West
P.O. Box 168
Lakeview AR, 72642
Phone:
870-431-5252
Fax:
870-431-4483
Email:
visitus@BeamanRealty.com
Website:
http://www.Beamanrealty.com
Beaman Realty ~
Gary Stubenfoll

Since 1968, Beaman Realty has been a leader in the local real estate business. Our Friendly and professional agents are always up to date in the latest in the real estate market in the Ozarks of Arkansas.

A lot has changed since 1968, but Beaman Realty continues to lead in customer satisfaction. With over 45 years of success helping buyers and sellers find their perfect home or business in the Ozarks of Arkansas, the Beaman Realty team offers the best in terms of customer satisfaction and real estate expertise.

Beaman Realty's agents can help guide you through the sometimes confusing process of buying or selling real estate with confidence. Beaman Realty provides a wide range of real estate services and utilizes the most current technology and systems to assist you with all of your real estate needs. Whether you are new to the market or an experienced investor, we have the expertise, proven track record and resources to help you achieve your real estate goals.

Contact Information:

5897 Highway 178 West

P.O. Box 168

Lakeview AR, 72642

Phone:

870-431-5252

Fax:

870-431-4483

Email:

visitus@BeamanRealty.com

Website: http://www.Beamanrealty.com