<< Back to Listings
Kindness, Inc.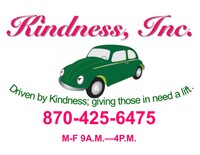 Giving those in need a lift.

Services offered by Kindness, Inc. to elderly and handicapped.

In Baxter and Marion Counties, we offer door to door service for not only medical appointments but trips to the hair dresser and shopping for food, prescriptions filled, clothing, whatever is needed or some volunteers will do the shopping for them. They also will take clients to the nursing home to visit family. Some will spend time with a client so their main caregiver can have some time off and we have daily reassurance calls to our office or a volunteer. All of these services are free to our clients.

We also have handymen available that will install grab bars and do some light repairs around our clients' home. One of our handymen will build and install handicap ramps. For these services, we do ask the client to reimburse the cost of the materials but the labor is free.
424 W North St. PO Box 1057
Mountain Home Ar, 72653
Phone:
870-425-6475 ~ Debbie Wamock
Executive Director
Fax:
870-425-6475
Email:
infoatkindnessinc@gmail.com
Website:
http://www.kindnessinc.com
Kindness, Inc.

 

Giving those in need a lift.

Services offered by Kindness, Inc. to elderly and handicapped.

In Baxter and Marion Counties, we offer door to door service for not only medical appointments but trips to the hair dresser and shopping for food, prescriptions filled, clothing, whatever is needed or some volunteers will do the shopping for them. They also will take clients to the nursing home to visit family. Some will spend time with a client so their main caregiver can have some time off and we have daily reassurance calls to our office or a volunteer. All of these services are free to our clients.

We also have handymen available that will install grab bars and do some light repairs around our clients' home. One of our handymen will build and install handicap ramps. For these services, we do ask the client to reimburse the cost of the materials but the labor is free.

Contact Information:

424 W North St. PO Box 1057

Mountain Home Ar, 72653

Phone:

870-425-6475 ~ Debbie Wamock

Executive Director

Fax:

870-425-6475

Email:

infoatkindnessinc@gmail.com

Website: http://www.kindnessinc.com