<< Back to Listings
White River Distillery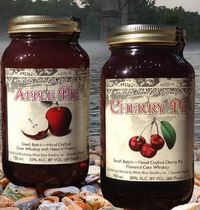 White River Distillery is a family owned and operated business located in the scenic Ozark Mountains of northern Arkansas. We design, create, bottle, label, and pack every jar of our premium spirits, with the same care and attention to detail, the way we know our customers have come to expect.
Our handcrafted liquor is produced using only the finest grains, fruits, and pure limestone filtered water. Our process stays true to the time-honored traditions of making the highest quality moonshine. We never rush the process and believe there are no shortcuts to success when it comes to producing top-notch spirits.
Each and every batch, bottle, and case is created on-site with attention to detail so that quality is never sacrificed. The result? Taste Perfection in a real Mason Jar.
150 Nancy St
Gassville AR, 72635
Phone:
(870) 430-5747
Website:
www.whiteriverdistillery.com/
White River Distillery

White River Distillery is a family owned and operated business located in the scenic Ozark Mountains of northern Arkansas. We design, create, bottle, label, and pack every jar of our premium spirits, with the same care and attention to detail, the way we know our customers have come to expect.

 

Our handcrafted liquor is produced using only the finest grains, fruits, and pure limestone filtered water. Our process stays true to the time-honored traditions of making the highest quality moonshine. We never rush the process and believe there are no shortcuts to success when it comes to producing top-notch spirits.

 

Each and every batch, bottle, and case is created on-site with attention to detail so that quality is never sacrificed. The result? Taste Perfection in a real Mason Jar.

Contact Information:

150 Nancy St

Gassville AR, 72635

Phone:

(870) 430-5747

Website: www.whiteriverdistillery.com/