<< Back to Listings
Denton Ferry RV Park, Inc.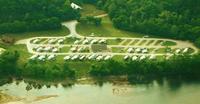 aking An RV Vacation?
Visiting the Ozark Mountains; the White River; Cotter, Arkansas; or just passing through the area? Then contact us at Denton Ferry RV Park and come enjoy the friendly atmosphere and good people at the Ozark's BEST RV Destination!

At Denton Ferry RV Park we have 44 level RV and Camper sites, all with full service hook-ups (50/30 amp elec.; Water, Sewer). The entrance to the park is a wide, paved access. The Park is set in a pretty riverside meadow with 17 riverfront sites. From all sites you can relax and enjoy the beautiful scenery of the White River, just a few feet away. In addition to the riverfront sites, we feature 27 convenient pull-through sites. All sites measure 16' x 65' in addition to a 14' x 65' grass lawn space. Two natural spring fed ponds and a meadow make up our riverside walking park. We feature 12 sites with fire pit access, as well as, a community fire pit available to all Park guests. Our office is located in the Reception Center which also includes a coin operated laundry, "The Cleanest RV Park Restrooms in America" - featuring modern facilities, private stalls and shower facilities. We also have a hospitality room that has Dish Network Satellite Color TV, games, dining areas, and a magazine and books share which is open to all guests.

DENTON FERRY RV PARK FEATURES SPACIOUS SITES
SURROUNDED BY NATURAL BEAUTY
740 Denton Ferry Road
Cotter AR, 72626
Phone:
870-435-7275 ~ William Ernst
Email:
bill@dentonrv.com
Website:
http://www.dentonrv.com/
Denton Ferry RV Park, Inc.

aking An RV Vacation?

Visiting the Ozark Mountains; the White River; Cotter, Arkansas; or just passing through the area? Then contact us at Denton Ferry RV Park and come enjoy the friendly atmosphere and good people at the Ozark's BEST RV Destination!

At Denton Ferry RV Park we have 44 level RV and Camper sites, all with full service hook-ups (50/30 amp elec.; Water, Sewer). The entrance to the park is a wide, paved access. The Park is set in a pretty riverside meadow with 17 riverfront sites. From all sites you can relax and enjoy the beautiful scenery of the White River, just a few feet away. In addition to the riverfront sites, we feature 27 convenient pull-through sites. All sites measure 16' x 65' in addition to a 14' x 65' grass lawn space. Two natural spring fed ponds and a meadow make up our riverside walking park. We feature 12 sites with fire pit access, as well as, a community fire pit available to all Park guests. Our office is located in the Reception Center which also includes a coin operated laundry, "The Cleanest RV Park Restrooms in America" - featuring modern facilities, private stalls and shower facilities. We also have a hospitality room that has Dish Network Satellite Color TV, games, dining areas, and a magazine and books share which is open to all guests.


DENTON FERRY RV PARK FEATURES SPACIOUS SITES
SURROUNDED BY NATURAL BEAUTY

Contact Information:

740 Denton Ferry Road

Cotter AR, 72626

Phone:

870-435-7275 ~ William Ernst

Email:

bill@dentonrv.com

Website: http://www.dentonrv.com/