<< Back to Listings
Hospice of the Ozarks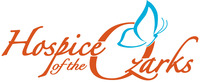 QUICK FACTS
Hospice of the Ozarks has been providing hospice care since 1979.
Only not-for-profit hospice serving Baxter and Marion counties.
Has a free standing 12 bed Hospice House that provides three levels of care since 2005.
Subsidiary of Baxter Regional Medical Center since 1986.
Hospice is not just for the elderly; hospice care can begin as early as birth.
Hospice is not giving up, but focuses on quality of life, re-focused hope, comfort and dignity for the patient and family.
Hospice is not just for cancer patients, but for any terminal illness that the life expectancy is 6 months or less if the disease ran its natural course.
Hospice is not a "place" but a philosophy of care that addresses the emotional, spiritual, physical and psycho-social elements of the patients and their families.
96 % of our patients are in the comfort of wherever they call home. We also provide care in our Hospice House, nursing homes, assisted living and retirement homes.
Hospice of the Ozarks Interdisciplinary Team develops a plan of care that meets each patient's individual need for pain management and symptom control.
Hospice nursing staff is on-call 24 hours a day, seven days a week.
Hospice receives a daily Per Diem from Medicare, Medicaid and most private insurance. Even with this reimbursement, not all of the expenses are covered.
Hospice of the Ozarks relies on donations, memorial giving, estate giving, fundraisers and volunteerism to cover costs.
No one is denied care regardless of ability to pay.
Anyone can make a referral; however a physician must attest to the hospice diagnoses.
A patient's personal physician can remain involved in their care.
Not all hospices are the same.
Grief support is offered free of charge to all of our community regardless if they had hospice care. Provides bereavement care to the family for at least 13 months.
Hospice of the Ozarks provides "We Honor Veterans" and "Pet Peace of Mind" programs.
Available to speak to any size group on a variety of topics to help inform, encourage and support.
Visit us on Facebook.
Hospice of the Ozarks
811 Burnett Dr
Mountain Home, AR 72653
Hospice House
774 Long Street
Mountain Home, AR 72653
811 Burnett Drive
Mountain Home AR, 72653
Phone:
870-508-1771
Fax:
870-508-1777
Email:
lvetter@baxterregional.org
Website:
http://www.hospiceoftheozarks.org
Hospice of the Ozarks

QUICK FACTS

Hospice of the Ozarks has been providing hospice care since 1979.

Only not-for-profit hospice serving Baxter and Marion counties.

Has a free standing 12 bed Hospice House that provides three levels of care since 2005.

Subsidiary of Baxter Regional Medical Center since 1986.

Hospice is not just for the elderly; hospice care can begin as early as birth.

Hospice is not giving up, but focuses on quality of life, re-focused hope, comfort and dignity for the patient and family.

Hospice is not just for cancer patients, but for any terminal illness that the life expectancy is 6 months or less if the disease ran its natural course.

Hospice is not a "place" but a philosophy of care that addresses the emotional, spiritual, physical and psycho-social elements of the patients and their families.

96 % of our patients are in the comfort of wherever they call home. We also provide care in our Hospice House, nursing homes, assisted living and retirement homes.

Hospice of the Ozarks Interdisciplinary Team develops a plan of care that meets each patient's individual need for pain management and symptom control.

Hospice nursing staff is on-call 24 hours a day, seven days a week.

Hospice receives a daily Per Diem from Medicare, Medicaid and most private insurance. Even with this reimbursement, not all of the expenses are covered.

Hospice of the Ozarks relies on donations, memorial giving, estate giving, fundraisers and volunteerism to cover costs.

No one is denied care regardless of ability to pay.

Anyone can make a referral; however a physician must attest to the hospice diagnoses.

A patient's personal physician can remain involved in their care.

Not all hospices are the same.

Grief support is offered free of charge to all of our community regardless if they had hospice care. Provides bereavement care to the family for at least 13 months.

Hospice of the Ozarks provides "We Honor Veterans" and "Pet Peace of Mind" programs.

Available to speak to any size group on a variety of topics to help inform, encourage and support.

Visit us on Facebook.

Hospice of the Ozarks

811 Burnett Dr

Mountain Home, AR 72653

Hospice House

774 Long Street

Mountain Home, AR 72653

Contact Information:

811 Burnett Drive

Mountain Home AR, 72653

Phone:

870-508-1771

Fax:

870-508-1777

Email:

lvetter@baxterregional.org

Website: http://www.hospiceoftheozarks.org