<< Back to Listings
White River Marathon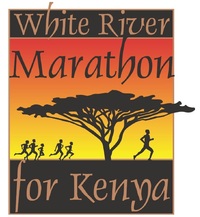 White River Marathon for Kenya (WRM) is North Central Arkansas' premier road running race!  Offering Marathon, Half Marathon and 5K races, WRM hosts runners of all abilities spanning all 50 states!  The attractiveness of WRM is the ridiculously flat course along the White River and the fun, family friendly atmosphere of the event.  Those looking to qualify for the Boston Marathon have to look no further than White River Marathon!
White River Marathon has raised tens of thousands of dollars for the village of Katito, Kenya, providing potable water wells, clothing and a host of other necessities working in conjunction with World Vision.  World Vision is a Christian humanitarian organization dedicated to working with children, families, and their communities worldwide to reach their full potential by tackling the root causes of poverty and injustice.  Working in nearly 100 countries around the world, they serve all people, regardless of religion, race, ethnicity, or gender.
Paul Gigliotti, Race Director, Pirate Perry Events.
PO Box 2551
Mountain Home AR, 72653
Phone:
870-404-8363
Email:
paul@pirateperryevents.com
Website:
http://www.whiterivermarathon.com
White River Marathon

White River Marathon for Kenya (WRM) is North Central Arkansas' premier road running race!  Offering Marathon, Half Marathon and 5K races, WRM hosts runners of all abilities spanning all 50 states!  The attractiveness of WRM is the ridiculously flat course along the White River and the fun, family friendly atmosphere of the event.  Those looking to qualify for the Boston Marathon have to look no further than White River Marathon!

White River Marathon has raised tens of thousands of dollars for the village of Katito, Kenya, providing potable water wells, clothing and a host of other necessities working in conjunction with World Vision.  World Vision is a Christian humanitarian organization dedicated to working with children, families, and their communities worldwide to reach their full potential by tackling the root causes of poverty and injustice.  Working in nearly 100 countries around the world, they serve all people, regardless of religion, race, ethnicity, or gender.

Paul Gigliotti, Race Director, Pirate Perry Events.

Contact Information:

PO Box 2551

Mountain Home AR, 72653

Phone:

870-404-8363

Email:

paul@pirateperryevents.com

Website: http://www.whiterivermarathon.com