<< Back to Listings
Lodge Between The Lakes, LLC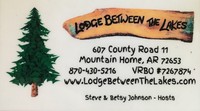 Lots of space with a cozy home atmosphere. With almost 6,000 sq. ft. of space, our Lodge may be just perfect for your next Twin Lakes Area vacation or family reunion! Come enjoy the beautiful Ozarks in any season! Family reunions are our specialty. Weddings!! Grandpa's Barn under construction.
Fun stuff we offer: New 3,000 sq. ft. Event Center, Game/Rec Room, slate pool table, Ping Pong table, soccer goal & field, volleyball & playground, horseshoes, lighted basketball area, commercial treadmill, stocked pond, fish cleaning table, Hi Speed WiFi + Cable TV, UHD Televisions--Xbox One, Yamaha 88-key keyboard, commercial griddle--fire pit with grill, commercial ice available, fully equipped kitchen, starter breakfast supply, dining room (seats 25), Hot Springs Spa--Hot Tub (seats 7), baby crib--pack & play, Six bedrooms (sleeps 19), four bathrooms (three en suite), screened porch, paved driveway, gravel parking lot for 40+ cars, boat trailer parking, gas log fireplace, and washer/dryer. Check our website for details on this and more stuff.
Please visit Vrbo.com or HomeAway.com and search for our listing number (7267874).
607 County Road 11
Mountain Home AR, 72653
Phone:
(870) 430-5216 or Cell #870-404-4802
Email:
LodgeBetweenTheLakes@gmail.com
Website:
http://www.lodgebetweenthelakes.com
Lodge Between The Lakes, LLC

Lots of space with a cozy home atmosphere. With almost 6,000 sq. ft. of space, our Lodge may be just perfect for your next Twin Lakes Area vacation or family reunion! Come enjoy the beautiful Ozarks in any season! Family reunions are our specialty. Weddings!! Grandpa's Barn under construction.

Fun stuff we offer: New 3,000 sq. ft. Event Center, Game/Rec Room, slate pool table, Ping Pong table, soccer goal & field, volleyball & playground, horseshoes, lighted basketball area, commercial treadmill, stocked pond, fish cleaning table, Hi Speed WiFi + Cable TV, UHD Televisions--Xbox One, Yamaha 88-key keyboard, commercial griddle--fire pit with grill, commercial ice available, fully equipped kitchen, starter breakfast supply, dining room (seats 25), Hot Springs Spa--Hot Tub (seats 7), baby crib--pack & play, Six bedrooms (sleeps 19), four bathrooms (three en suite), screened porch, paved driveway, gravel parking lot for 40+ cars, boat trailer parking, gas log fireplace, and washer/dryer. Check our website for details on this and more stuff.

Please visit Vrbo.com or HomeAway.com and search for our listing number (7267874).

Contact Information:

607 County Road 11

Mountain Home AR, 72653

Phone:

(870) 430-5216 or Cell #870-404-4802

Email:

LodgeBetweenTheLakes@gmail.com

Website: http://www.lodgebetweenthelakes.com