<< Back to Listings
Ron's Flyfishing 101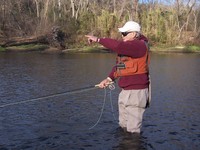 Fly Fishing is my passion, and it is one of the blessings of my life to share it with others. Here on the White River in North Arkansas, we specialize in trout fishing. Learn about the art of fly fishing, the fly equipment you'll need, how to get started, and how to keep learning! Fly fishing lessons can make fly-fishing a more satisfying experience. I have developed a comprehensive, one-day program that will have you casting easily and accurately.
The day includes equipment assembly and maintenance, knot tying, casting and on-the-water instructions. Fly fishing classes are one-on-one or two friends can share the experience. You don't have to worry about learning new skills with strangers.
Check my website for rates and additional information.
220 Walnut Hill Ln
Cotter AR, 72626
Phone:
870 405-3853
Email:
ronmcquay@suddenlink.net
Website:
http://www.ronsflyfishing101.com
Ron's Flyfishing 101

Fly Fishing is my passion, and it is one of the blessings of my life to share it with others. Here on the White River in North Arkansas, we specialize in trout fishing. Learn about the art of fly fishing, the fly equipment you'll need, how to get started, and how to keep learning! Fly fishing lessons can make fly-fishing a more satisfying experience. I have developed a comprehensive, one-day program that will have you casting easily and accurately.

The day includes equipment assembly and maintenance, knot tying, casting and on-the-water instructions. Fly fishing classes are one-on-one or two friends can share the experience. You don't have to worry about learning new skills with strangers.

Check my website for rates and additional information.

Contact Information:

220 Walnut Hill Ln

Cotter AR, 72626

Phone:

870 405-3853

Email:

ronmcquay@suddenlink.net

Website: http://www.ronsflyfishing101.com