<< Back to Listings
White Hole Resort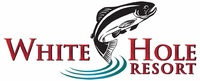 White Hole Resort, a favorite destination for southern hospitality and world-class fishing, sits on the bank of the famous White River in the Ozark Mountains of Northern Arkansas.  Located on one of the best trout fishing sections of the White River, the White Hole is just steps from your cabin where rainbow, brown and cutthroat trout are bountiful.  Each year, hundreds of thousands of rainbow trout are stocked in the cool, clear water of the White River, drawing anglers around the globe.
Whether fly fishing or spin fishing, we have the knowledge, facilities and equipment to make your trip a success.  Enjoy clean, furnished cabins, fully equipped river boats, expert fishing guides, and a well-stocked bait and tackle shop.  Our full-service, family-owned and operated resort is perfect for your personal fishing getaway, vacation with family and friends, or retreat with business associates.  At White Hole Resort, you'll experience southern hospitality and world-class trout fishing at its finest.
Let the friendly White Hole Resort staff help plan your ultimate trout fishing adventure today!
4971 Marion County 7001
Flippin AR, 72634
Phone:
(870) 453-2913
Email:
steve@whiteholeresort.com
Website:
http://www.whiteholeresort.com
White Hole Resort

White Hole Resort, a favorite destination for southern hospitality and world-class fishing, sits on the bank of the famous White River in the Ozark Mountains of Northern Arkansas.  Located on one of the best trout fishing sections of the White River, the White Hole is just steps from your cabin where rainbow, brown and cutthroat trout are bountiful.  Each year, hundreds of thousands of rainbow trout are stocked in the cool, clear water of the White River, drawing anglers around the globe.

Whether fly fishing or spin fishing, we have the knowledge, facilities and equipment to make your trip a success.  Enjoy clean, furnished cabins, fully equipped river boats, expert fishing guides, and a well-stocked bait and tackle shop.  Our full-service, family-owned and operated resort is perfect for your personal fishing getaway, vacation with family and friends, or retreat with business associates.  At White Hole Resort, you'll experience southern hospitality and world-class trout fishing at its finest.

Let the friendly White Hole Resort staff help plan your ultimate trout fishing adventure today!

Contact Information:

4971 Marion County 7001

Flippin AR, 72634

Phone:

(870) 453-2913

Email:

steve@whiteholeresort.com

Website: http://www.whiteholeresort.com