<< Back to Listings
Ozarks' History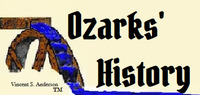 Sharing the history, tragedy, and humor of the Ozarks & White River is a joy for Vincent Anderson.  As an 8th generation native of the Ozarks, it's deep in his soul, and he understands our cultural heritage, struggles & accomplishments.
Vincent is a former columnist for the "Looking Back in History" column in The Baxter Bulletin.  His first book, Bald Knobbers:  Chronicles of Vigilante Justice, was released in 2013.  In 2016, Vincent was appointed by Arkansas Governor, Asa Hutchinson, to serve on the Prairie Grove Civil War Battlefield State Park.  In 2018, he completed his graduate degree in American History from American Military University with his thesis focused on the White River, 1884-1888.  Vincent received his national recognition certificate in Historical Interpretation from the National Association for Interpretation in 2020.
Additionally, Vincent has worked as a historical consultant for networks such as the Travel Channel, Discovery Channel, and National Geographic.  He has consulted and appeared on the SyFy Channel's Haunted Collector & Animal Planet's Finding Bigfoot.
Vincent has served as a historical Ozarks tour guide & storyteller for civic groups, resorts, banks, chambers of commerce, and the 2016 Bassmaster Elite.
For Ozarks' History & Storytelling, contact Vincent for your next event.
Enjoy your Ozarks' History!
469 CR715
Gassville AR, 72635
Phone:
870-405-5235
Email:
whiterh613@gmail.com
Website:
https://ozarkshistory.blogspot.com/
Ozarks' History

 

Sharing the history, tragedy, and humor of the Ozarks & White River is a joy for Vincent Anderson.  As an 8th generation native of the Ozarks, it's deep in his soul, and he understands our cultural heritage, struggles & accomplishments.

Vincent is a former columnist for the "Looking Back in History" column in The Baxter Bulletin.  His first book, Bald Knobbers:  Chronicles of Vigilante Justice, was released in 2013.  In 2016, Vincent was appointed by Arkansas Governor, Asa Hutchinson, to serve on the Prairie Grove Civil War Battlefield State Park.  In 2018, he completed his graduate degree in American History from American Military University with his thesis focused on the White River, 1884-1888.  Vincent received his national recognition certificate in Historical Interpretation from the National Association for Interpretation in 2020.

Additionally, Vincent has worked as a historical consultant for networks such as the Travel Channel, Discovery Channel, and National Geographic.  He has consulted and appeared on the SyFy Channel's Haunted Collector & Animal Planet's Finding Bigfoot.

Vincent has served as a historical Ozarks tour guide & storyteller for civic groups, resorts, banks, chambers of commerce, and the 2016 Bassmaster Elite.

For Ozarks' History & Storytelling, contact Vincent for your next event.

Enjoy your Ozarks' History!

Contact Information:

469 CR715

Gassville AR, 72635

Phone:

870-405-5235

Email:

whiterh613@gmail.com

Website: https://ozarkshistory.blogspot.com/