<< Back to Listings
Gaige, Gerald and Larisa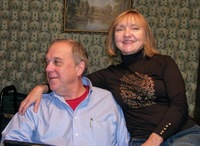 Gerald and Larisa Gaige, Baxter County Airport AOPA.

Both retired international real estate appraisers, Larisa and Gerald pursue enhancing the livability of their acreage just north of Gassville. Having visited the area regularly since 1978, they relocated here full-time in 2021 from their home in the Blue Ridge Mountains of South Carolina. Now occupied with Larisa's outdoor hiking activities and yoga, and Gerald's activity at the Baxter County Airport as the Aircraft Owners and Pilots Association Airport Support Network Volunteer, they are amazed at the positive changes and growth accelerating in Cotter and Gassville.
The investments being made here, and the new opportunities created are being done in a way that is a blessing to all. The Gaige's look forward to adding their force to the effort and being positive supporters of continued advancement for the quality of Cotter-Gassville life.
959 Hwy 126N
Gassville AR, 72635
Phone:
870-430-8050 / 870-656-6005
Email:
gegaige@gmail.com
Gaige, Gerald and Larisa

Gerald and Larisa Gaige, Baxter County Airport AOPA.


Both retired international real estate appraisers, Larisa and Gerald pursue enhancing the livability of their acreage just north of Gassville. Having visited the area regularly since 1978, they relocated here full-time in 2021 from their home in the Blue Ridge Mountains of South Carolina. Now occupied with Larisa's outdoor hiking activities and yoga, and Gerald's activity at the Baxter County Airport as the Aircraft Owners and Pilots Association Airport Support Network Volunteer, they are amazed at the positive changes and growth accelerating in Cotter and Gassville.

The investments being made here, and the new opportunities created are being done in a way that is a blessing to all. The Gaige's look forward to adding their force to the effort and being positive supporters of continued advancement for the quality of Cotter-Gassville life.

Contact Information:

959 Hwy 126N

Gassville AR, 72635

Phone:

870-430-8050 / 870-656-6005

Email:

gegaige@gmail.com