<< Back to Listings
Cornerstone Soundworks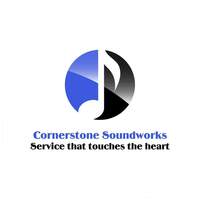 When you're on the stage, you want peace of mind your presentation, sermon, or set will go down without a hitch. Cornerstone Soundworks handles everything -- audio, video, and lighting -- so you can focus on your audience. We'll worry about the rest.
Let Us Handle Everything: Cornerstone Soundworks covers three key area--audio, video, and lighting--to completely support your brand, vision, and space. We guarantee you will have a memorable experience working with Cornerstone Soundworks.
Audio/Visual: Get the perfect sound system for your church, business, office, home, or anywhere and do it on budget. No matter the size or space of your location, we can design and install an affordable solution that meets your unique needs. See why more people trust Cornerstone Soundworks with their sound systems than any other provider.
Rental Equipment: Whatever your live sound requirements, we've got the rental equipment to make your show or event sound great. Whether you need a full system, additional monitors, subwoofers for extra kick, a larger mixer, or just enough stands, mics and cables to go around, our rental associates will help you find exactly the gear you need.
4/6/8 Week Learning Courses (TBD): Audio/Visual Lighting Technicians use the soundboard and other audio equipment to ensure sound levels are correct and the sound is mixed well. Their work is the finishing touch on the artist's performance, guaranteeing that the music sounds good for both the performer on stage, and for the people in the crowd. In some cases they also assist with lighting and special effects.
2178 Buzzard Roost Rd
Mountain Home AR, 72653
Phone:
870-404-3634
Email:
cornerstonesoundworks@gmail.com
Website:
http://www.cornerstonesoundworks.com
Cornerstone Soundworks

When you're on the stage, you want peace of mind your presentation, sermon, or set will go down without a hitch. Cornerstone Soundworks handles everything -- audio, video, and lighting -- so you can focus on your audience. We'll worry about the rest.

Let Us Handle Everything: Cornerstone Soundworks covers three key area--audio, video, and lighting--to completely support your brand, vision, and space. We guarantee you will have a memorable experience working with Cornerstone Soundworks.

Audio/Visual: Get the perfect sound system for your church, business, office, home, or anywhere and do it on budget. No matter the size or space of your location, we can design and install an affordable solution that meets your unique needs. See why more people trust Cornerstone Soundworks with their sound systems than any other provider.

Rental Equipment: Whatever your live sound requirements, we've got the rental equipment to make your show or event sound great. Whether you need a full system, additional monitors, subwoofers for extra kick, a larger mixer, or just enough stands, mics and cables to go around, our rental associates will help you find exactly the gear you need.

4/6/8 Week Learning Courses (TBD): Audio/Visual Lighting Technicians use the soundboard and other audio equipment to ensure sound levels are correct and the sound is mixed well. Their work is the finishing touch on the artist's performance, guaranteeing that the music sounds good for both the performer on stage, and for the people in the crowd. In some cases they also assist with lighting and special effects.

Contact Information:

2178 Buzzard Roost Rd

Mountain Home AR, 72653

Phone:

870-404-3634

Email:

cornerstonesoundworks@gmail.com

Website: http://www.cornerstonesoundworks.com