<< Back to Listings
White River Trout Lodge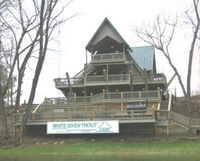 We are located in the heart of the Ozarks on a peaceful country road near Cotter Arkansas. Our property provides 475 feet of frontage on a river world famous for trout fishing. Our riverbank is great for fly fishing. Via the river, we are just 8 1/2 miles downstream from Bull Shoals Dam, about 2 miles down from White Hole and 3 miles up from Wildcat Shoals. The Narrows is actually within view from our bank. We are situated in a prime spot for fishing for huge brown as well as large rainbow and stockers.
If you just want a beautiful place to home base while you explore our area, we are located in the middle of many Ozark adventure spots. Bull Shoals and Norfork Lakes, Buffalo National River, and Crooked Creek are within 40 miles of us. It's about an hour to Mountview and 1 1/2 hours to Branson.
Our flexible accommodations are nestled by the waters' edge with a view of majestic bluffs and clear trout waters. We have lots of comfortable deck space with outdoor dining option.
752 CR 703
Cotter AR, 72626
Phone:
870-421-7428
Email:
info@whiteriverlodge.com
Website:
http://www.whiteriverlodge.com
White River Trout Lodge

We are located in the heart of the Ozarks on a peaceful country road near Cotter Arkansas. Our property provides 475 feet of frontage on a river world famous for trout fishing. Our riverbank is great for fly fishing. Via the river, we are just 8 1/2 miles downstream from Bull Shoals Dam, about 2 miles down from White Hole and 3 miles up from Wildcat Shoals. The Narrows is actually within view from our bank. We are situated in a prime spot for fishing for huge brown as well as large rainbow and stockers.

If you just want a beautiful place to home base while you explore our area, we are located in the middle of many Ozark adventure spots. Bull Shoals and Norfork Lakes, Buffalo National River, and Crooked Creek are within 40 miles of us. It's about an hour to Mountview and 1 1/2 hours to Branson.

Our flexible accommodations are nestled by the waters' edge with a view of majestic bluffs and clear trout waters. We have lots of comfortable deck space with outdoor dining option.

Contact Information:

752 CR 703

Cotter AR, 72626

Phone:

870-421-7428

Email:

info@whiteriverlodge.com

Website: http://www.whiteriverlodge.com