<< Back to Listings
Re:Create Joy, LLC (Ang Pereira)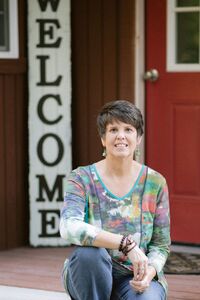 As a Licensed Clinical Social Worker (LCSW), I have worked as a medical and mental health social worker for over 15 years. With experience working with those grieving losses, suffering from acute, chronic or terminal illness, or caring for one who does, the ups and downs of aging, or the many changes life throws at us day-to-day: depression, anxiety, transitions. I find it an honor to assist our Military Veterans and their families. I believe therapy is a journey that a client and myself take together.
My philosophy is that you, the client, is essentially the driver on this journey and as your passenger, my role is to navigate you through the roads life can lay out in front of you. During our journey together, I will encourage you to confront your thoughts, feelings, emotions, and behaviors while building new skills to conquer the day-to-day bumps, potholes, and detours in the road of life. After all, life is about the journey, not the destination.
I'm a roll-up-my sleeves therapist who helps you stop living your life on autopilot. Let's work together to make you feel more connected to yourself and those around you. It's time to live your BEST life.
Services offered:
Aging - The transitions that come with growing older can be overwhelming for individuals and families. I can assist elders and their adult children understand and work through this maze to find peace.
Life Transitions - Adjusting to change can be difficult, even positive events can cause stress. During our lives, a person has a significant amount of change. I can assist you in adjusting to what we cannot control.
Grief, Loss and Bereavement - The loss of a loved one is life's most stressful event and can cause a major shift. I believe in the "companioning" model, in contract to the medical model, which is based on "treating patients."
Teletherapy means the delivery of counseling services using interactive audio and video technology, permitting real-time communication between the patient and therapist. Our platform is HIPAA compliant, in order to protect your privacy and confidentiality. Our technology is at no cost to our patients. Patients can participate in sessions from the comfort of their home or any location determined appropriate by the patient and therapist.
Eye Movement Desensitization and Reprocessing (EMDR) - a form of psychotherapy in which the person being treated is asked to focus on a specific problem, and both its negative and positive emotions, sensations, and beliefs. Since you are focused on the specific problem, your brain is able to work through it more effectively than what would happen if it randomly comes up while you are sleeping. It is included in several guidelines for the treatment of Post-Traumatic Stress Disorder (PTSD).
Consultation available for those seeking assistance navigating the maze of Alzheimer's/Dementia, Elder Care and Conscious Aging care options.
Private Pay: Initial Intake Assessment (50 minutes) - $200. Therapy Session (50 minutes) - $145
Insurance: Medicare and most insurances offered in Arkansas. Deductible and co-pays required to be paid at time of appointment.
308 Wallick Dr
Cotter AR,
Phone:
417-293-1933
Email:
angpereira@yahoo.com
Re:Create Joy, LLC (Ang Pereira)

As a Licensed Clinical Social Worker (LCSW), I have worked as a medical and mental health social worker for over 15 years. With experience working with those grieving losses, suffering from acute, chronic or terminal illness, or caring for one who does, the ups and downs of aging, or the many changes life throws at us day-to-day: depression, anxiety, transitions. I find it an honor to assist our Military Veterans and their families. I believe therapy is a journey that a client and myself take together.

My philosophy is that you, the client, is essentially the driver on this journey and as your passenger, my role is to navigate you through the roads life can lay out in front of you. During our journey together, I will encourage you to confront your thoughts, feelings, emotions, and behaviors while building new skills to conquer the day-to-day bumps, potholes, and detours in the road of life. After all, life is about the journey, not the destination.

I'm a roll-up-my sleeves therapist who helps you stop living your life on autopilot. Let's work together to make you feel more connected to yourself and those around you. It's time to live your BEST life.

Services offered:

Aging - The transitions that come with growing older can be overwhelming for individuals and families. I can assist elders and their adult children understand and work through this maze to find peace.

Life Transitions - Adjusting to change can be difficult, even positive events can cause stress. During our lives, a person has a significant amount of change. I can assist you in adjusting to what we cannot control.

Grief, Loss and Bereavement - The loss of a loved one is life's most stressful event and can cause a major shift. I believe in the "companioning" model, in contract to the medical model, which is based on "treating patients."

Teletherapy means the delivery of counseling services using interactive audio and video technology, permitting real-time communication between the patient and therapist. Our platform is HIPAA compliant, in order to protect your privacy and confidentiality. Our technology is at no cost to our patients. Patients can participate in sessions from the comfort of their home or any location determined appropriate by the patient and therapist.

Eye Movement Desensitization and Reprocessing (EMDR) - a form of psychotherapy in which the person being treated is asked to focus on a specific problem, and both its negative and positive emotions, sensations, and beliefs. Since you are focused on the specific problem, your brain is able to work through it more effectively than what would happen if it randomly comes up while you are sleeping. It is included in several guidelines for the treatment of Post-Traumatic Stress Disorder (PTSD).

Consultation available for those seeking assistance navigating the maze of Alzheimer's/Dementia, Elder Care and Conscious Aging care options.

Private Pay: Initial Intake Assessment (50 minutes) - $200. Therapy Session (50 minutes) - $145

Insurance: Medicare and most insurances offered in Arkansas. Deductible and co-pays required to be paid at time of appointment.

Contact Information:

308 Wallick Dr

Cotter AR,

Phone:

417-293-1933

Email:

angpereira@yahoo.com