<< Back to Listings
North Arkansas Fly Fishers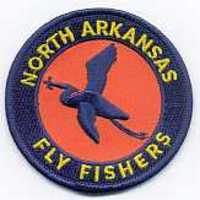 The NORTH ARKANSAS FLY FISHERS was incorporated as a non-profit corporation of the state of Arkansas in 1985 and today has over 300 members. From the beginning, we've been active in conservation and education and that interest continues to this day.
We are especially proud of our record in youth education. We mentor the Yellville-Summit High School Fly Fishers and are helping to start another club at the Mountain Home Junior High School.
Our activities in the realm of conservation include actively supporting efforts to save Crooked Creek, supporting regulations to maintain our great fishery on the White and North Fork rivers and new projects involving Norfork Lake cleanup and bank stabilization on the White River.

MEETINGS are the third Tuesday of each month at Van Matre Senior Center 1101 Spring St., Mountain Home (In Cooper Park) with meetings starting at 7:00 p.m. Daylight and weather permitting, casting instruction is available before the meeting. Programs include presentations by local and visiting experts, fly tying demonstrations and hands on tying sessions. Fly fishers who are in our area on the third Tuesday of any month (except May, September, and December) are invited to drop in to our meetings.

Our MONTHLY NEWSLETTER, "Tale Waters" keeps our membership informed about what's happening on our rivers and lakes, club activities, conservation issues and fishing techniques. About one third of our members live outside the area and visit regularly to enjoy the fishing. Many join to receive the newsletter and stay informed of what's happening while the're away from "fly fishing paradise."

An INDIVIDUAL MEMBERSHIP extends to all family members under 18 years of age. Benefits include 12 issues of "Tale Waters", membership card, a club decal, and a copy of "The Wade Fisherman's Guide to the White, North Fork and Spring Rivers". A FAMILY MEMBERSHIP provides the same benefits with two votes. OUR SPONSOR MEMBERSHIP is for businesses or other organizations. Benefits include the above plus a membership certificate, free listing in the Sowbug Roundup Services Directory and reproduction of a business card or similarly sized ad in each monthly issue of the club newsletter, "Tale Waters"and on this website. Membership dues are based on whether you get you newsletter by email or by "snail" mail.
To learn more or to join the North Arkansas Fly Fishers write:
NAFF Membership,
P. O. Box 1213,
Mountain Home AR 72654
or emai:
PO Box 1213
Mountain Home AR, 72654
Phone:
(870) 305-4104
Email:
sowbug@northarkansasflyfisher.org
Website:
https://www.northarkansasflyfishers.org/
North Arkansas Fly Fishers

The NORTH ARKANSAS FLY FISHERS was incorporated as a non-profit corporation of the state of Arkansas in 1985 and today has over 300 members. From the beginning, we've been active in conservation and education and that interest continues to this day.
We are especially proud of our record in youth education. We mentor the Yellville-Summit High School Fly Fishers and are helping to start another club at the Mountain Home Junior High School.
Our activities in the realm of conservation include actively supporting efforts to save Crooked Creek, supporting regulations to maintain our great fishery on the White and North Fork rivers and new projects involving Norfork Lake cleanup and bank stabilization on the White River.

MEETINGS are the third Tuesday of each month at Van Matre Senior Center 1101 Spring St., Mountain Home (In Cooper Park) with meetings starting at 7:00 p.m. Daylight and weather permitting, casting instruction is available before the meeting. Programs include presentations by local and visiting experts, fly tying demonstrations and hands on tying sessions. Fly fishers who are in our area on the third Tuesday of any month (except May, September, and December) are invited to drop in to our meetings.

Our MONTHLY NEWSLETTER, "Tale Waters" keeps our membership informed about what's happening on our rivers and lakes, club activities, conservation issues and fishing techniques. About one third of our members live outside the area and visit regularly to enjoy the fishing. Many join to receive the newsletter and stay informed of what's happening while the're away from "fly fishing paradise."

An INDIVIDUAL MEMBERSHIP extends to all family members under 18 years of age. Benefits include 12 issues of "Tale Waters", membership card, a club decal, and a copy of "The Wade Fisherman's Guide to the White, North Fork and Spring Rivers". A FAMILY MEMBERSHIP provides the same benefits with two votes. OUR SPONSOR MEMBERSHIP is for businesses or other organizations. Benefits include the above plus a membership certificate, free listing in the Sowbug Roundup Services Directory and reproduction of a business card or similarly sized ad in each monthly issue of the club newsletter, "Tale Waters"and on this website. Membership dues are based on whether you get you newsletter by email or by "snail" mail.

To learn more or to join the North Arkansas Fly Fishers write:
NAFF Membership,
P. O. Box 1213,
Mountain Home AR 72654
or emai:

Contact Information:

PO Box 1213

Mountain Home AR, 72654

Phone:

(870) 305-4104

Email:

sowbug@northarkansasflyfisher.org

Website: https://www.northarkansasflyfishers.org/